Fundraiser
Custom Made Fabric Christmas Trees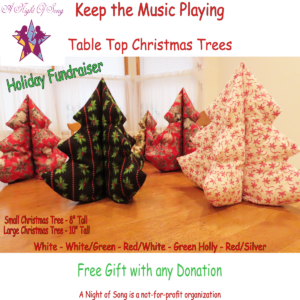 Our Gift to you
Receive a free Christmas Tree with any Donation, Merry Christmas!.
*Donations are tax-deductable
We are a not-for-profit organization dedicated to sharing the love & light of music.
A Night of Song travels throughout the community with local musicians visiting Seniors, Veterans and those with disabilities.
Christmas Trees are handmade with soft machine washable fabric (delicate cycle, cold water). Trees can be used as decorations throughout your home or office.  Please allow 7-14 days to receive your order.